home

calendar

composition contest

swojo store

players

recordings

video

reviews

links

about swojo

contact swojo

press kit




Join us on Facebook!
welcome to swojo.org

The Seattle Women's Jazz Orchestra (SWOJO) - showcasing many of the finest female jazz artists in the region for over 17 years. <! Showcasing high intensity jazz, tight harmonies, and lush dynamic sounds, the band performs with a fresh energy stemming from over fourteen years of thrilling audiences on two continents.-->

SWOJO performs jazz standards, Latin and Brazillian jazz, and proudly features the contemporary, original music of many regional and international composers and arrangers, including Jill Townsend, Hazel Leach, Robin Holcomb, Ann Reynolds, Leigh Pilzer, Patty Darling, Mathilde Grooss Viddal, Jihye Lee, Jessie Smith, Dr. Jennifer Bellor, Miseung Kang, Lauren McKinley, Jenny Kellogg, Nelda Swigget, and Christine Jensen.

<!div class="button big-btn" href="comp_contest_2014.htm"><!/div> <! ------- Removed ---------------------------------------------- <! <!
<!

<! ------- Removed ----------------------------------------------> <! --- MD DIRECTOR SEARCH addition start --> compositioncontest

Thank you to all the women who submitted their original music in this year's contest! We received scores from Germany, Canada, Korea, Israel and USA!

The winner will be announced soon.

<! ------- Featured Artist Pic --------------------------------->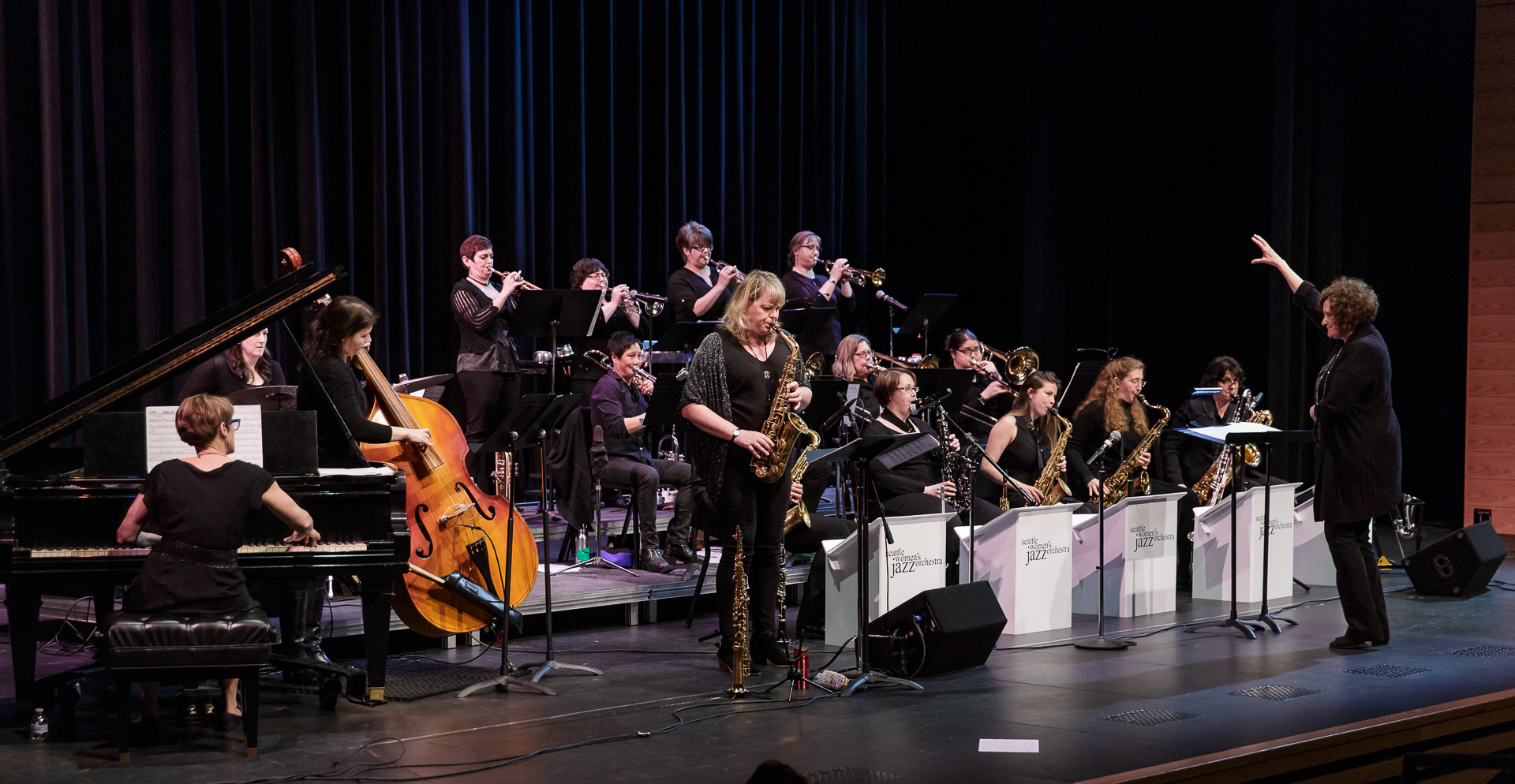 <! - - - - - - - - - - - - - - - - - - - - - - - - - - - - - - --> nextperformance Sunday, July 16, 2017
Rhythm in Colors: Jazz
A combo from Seattle Women's Jazz Orchestra will play live jazz followed by a screening of Kay Ray's documentary Lady Be Good: Instrumental Women in Jazz, plus Q&A with the filmmaker and women in jazz.
Central Library Microsoft Auditorium, 1000 4th Ave, Seattle
2:00pm-4:00pm
Free, All-ages!

Monday, July 17, 2017
Rhythm & Rye
311 Capitol Way N, Olympia, WA 98501
8:00pm-10:30pm


<! --- Girls Jazz Band
girlsjazz
Seattle Women's Jazz Orchestra is excited to present our first girls jazz band program January 11 - March 15 2017.

The program offers eight evening rehearsals and a culminating concert for Seattle girl jazz musicians ages 13 and up.

SWOJO's professional musicians and music educators will lead rehearsals and sectionals, give a master class and perform a FREE joint concert on March 18, 2017.

The goal is to provide a comfortable and supportive educational opportunity for girls to develop jazz interpretation and improvisation skills within a big band setting.

Support the next generation of women in jazz!

<! -- when recruiting This project supported in part by the Seattle Office of Arts & Culture.


recentperformances
Tuesday and Wednesday, June 20-21, 2017
Curtis Stigers with SWOJO
Jazz Alley

Saturday, May 6, 2017
SWOJO featuring Christine Jensen and the world premiere of Cascadian Fragments
Shorewood Performing Arts Center
17300 Fremont Ave N., Shoreline, WA

Saturday, March 18, 2017
Girls Jazz Band hosted by SWOJO
Madison Middle School Auditorium
3429 45th Ave SW, Seattle, WA
*FREE, all ages, bring the family!

Saturday, October 15, 2016
Earhot Jazz Festival
SWOJO with special guest Jenny Kellogg Celebrate Women in Jazz!
Shorewood Performing Arts Center



swojo
mail list



swojonews

Our CDs, Meeting of the Waters and Dreamcatcher, are available for purchase at all SWOJO performances, Silver Platters, Barnes & Noble, or online from OA2 Records, CD Universeor Amazon.

SWOJO logo merchandise is now available at our swojo store.